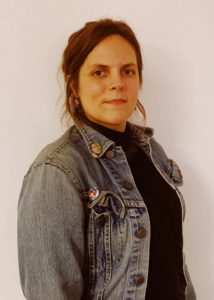 Screenwriter Huelah Lander wasted no time after leaving the Scripted Series Lab 2020 last year. She wrote one of this year's selected Crazy8s films, iDorothy, directed by Luvia Petersen and produced by Amanda Konkin. The film premiers at the Crazy8s gala on May 1st. Tix available at: 
http://crazy8s.film/
The same team, (Download Joy Productions), is pleased to announce that their Harold Greenburg funded short film, hAPPiness, will be debuting in Canada on Crave and internationally through Dust in July.
Oh, and a TV movie that she wrote,  Evil Stepmom,  is in production. No biggie!
Looking back at what she learned from her time at the PSP, Huelah says, "It's an industry built on connections which can make people feel it's inaccessible but the PSP helped me understand you don't know where opportunities are going to come from. It's okay if you don't click with everybody. If you aren't a super connector you can still work on making real connections with people."
To this year's cohort, Huelah says, "Don't be afraid to reach out with people. When this program ends you have a bit of name recognition to work with. Also keep in contact with your cohort." Huelah's advice to potential PSP applicants is, "Showcase yourself. Show your personality in your letter and your work and the interview. It's better to be real and who you are and interesting so that if you get in, it's the right fit. And be nice. Be someone people would want to spend a lot of time with."